Like any white meat, turkey is really good for you, and when cooked right, it can be incredibly tasty, if not downright moreish, too.
Personally, I just love smoked turkey wings with a keto-friendly barbecue sauce and complimenting herbs and spicy.
You get all the flavor you could want, and enjoy a nice cookout in the backyard, even if you're on a strict ketogenic diet meal plan.
And that's exactly the recipe I'm going to be sharing with you today. What's more, it's not a hard and fast recipe, and you can tweak the herbs and spices in the dry rub to your particular tastes.
And without further ado, let's get straight to it…
Keto-Friendly Barbecue Sauce Recipe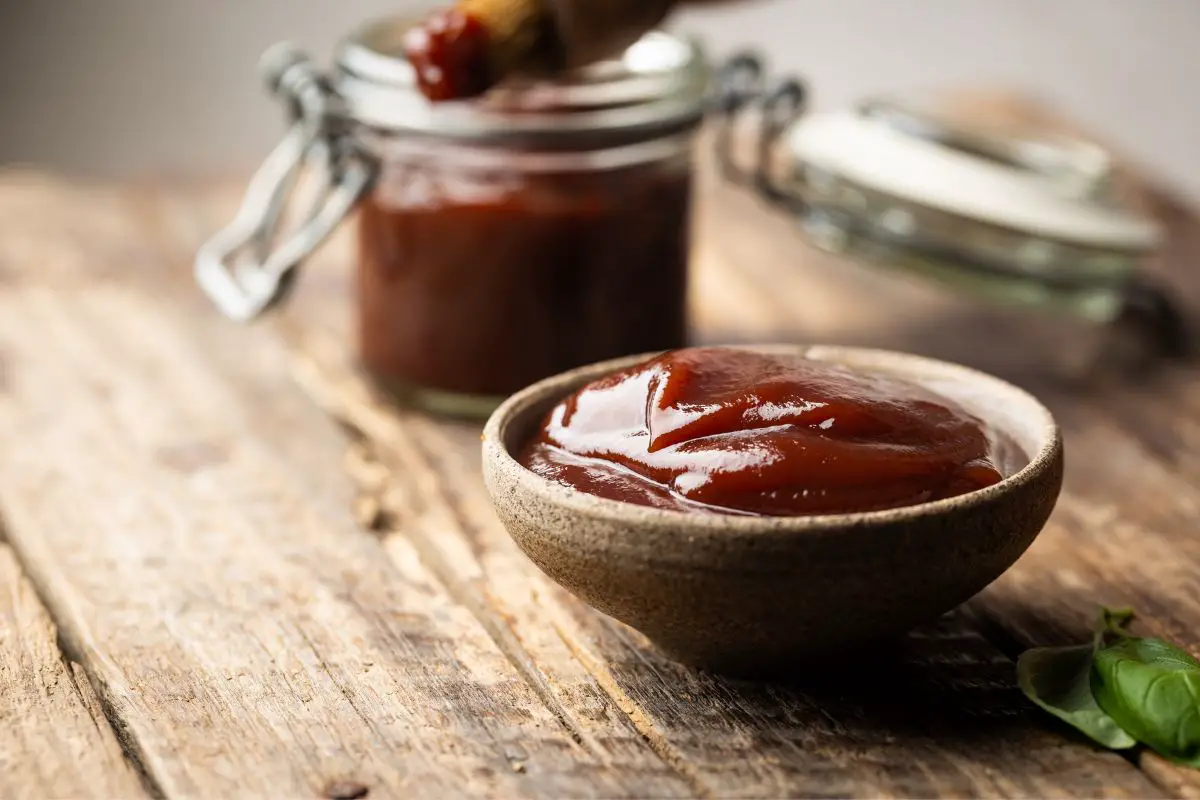 The keto-friendly barbecue sauce recipe provided below makes up to 3 cups of sauce if done right.
This barbecue sauce has to be made over a day in advance of the cookout. This is because the flavor profile and texture of the sauce changes over time.
Prep time is a mere 15 minutes, and the actual cooking time comes in at 45 minutes, so the total time is one hour. 
But then you have to do a taste test the next day for a more tangy sauce.
You can then adjust the measures of ingredients to your particular liking, and re-blend. (Unless you decide to go for the more mellow variation, for which instructions are also provided.)
Nutritional Information
One serving would be 2 tablespoons. Each serving comes to 28 calories in total, and features just 1.6 grams of carbs, with 1.1 grams classed as sugars. It also features 0.33 grams of protein, 2.3 grams of fat, and 0.6 grams of fiber.
It may not be sugar-free, but I can confirm that it is suitable for anyone following a strict ketogenic diet or meal plan. 
Ingredients List
12 oz water
6 oz tomato paste
3 oz apple cider vinegar
⅓ cup low-carb brown sugar substitute (yes, it does exist)
3 oz red wine vinegar
Teaspoon of shredded garlic
3 oz red wine vinegar
½ cup diced onion
Pinch of ground cloves
¾ teaspoon ground chipotle pepper
½ teaspoon dried thyme
Teaspoon Hickory liquid smoke
Pinch of salt
2 teaspoons Worcestershire sauce
½ teaspoon freshly ground black pepper
Method
Grab a medium saucepan and add the first 11 ingredients on the list above. Build to a simmer and keep it on a simmer for at least 45 minutes. (If you want a thicker sauce, let it simmer for longer.)
Place the remaining ingredients inside and use a blender until smooth. (If you don't have a stick blender, simply place all the ingredients into a regular blender.
The following day, do a taste test, and adjust as necessary.
Then allow it to thoroughly cool before pouring it into an airtight container.
You can keep the sauce refrigerated for up to 10 days at this stage.
Keto-Friendly Barbecue Sauce Recipe Variation
If you find the sauce recipe described above is too tangy for your liking, you can make an easy variation for a more mellow flavored sauce by following the steps below:
Sauté the shredded garlic and diced onions in a tablespoon of butter in a pan until they have softened.
Add the remaining ingredients.
Once cooked, add up to 3 tablespoons of butter and stir well
This version does not have to be left for a day for a taste test. It's best to do the taste testing between spoons of butter at the end.
Keto-Friendly Herbs And Spices
To be honest, the smoked turkey wings recipe works really well even if you don't add any dry rub ingredients to the meat. 
But if you decide that you want to add some herbs and spices, here's a list of ones that are not only OK to enjoy on a keto diet, but also taste great combined together in the smoked turkey wing recipe coming up shortly:
Pink Himalayan salt
Garlic powder
Ground mustard
Dried parsley
Dried oregano
Ground rosemary
Ground Thyme
As for the amounts, go by your personal preference. Anywhere between ¼ teaspoon and a full teaspoon of each is fine. You could also add onion powder, provided that you do so sparingly.
Keto-Friendly Smoked Turkey Wings Recipe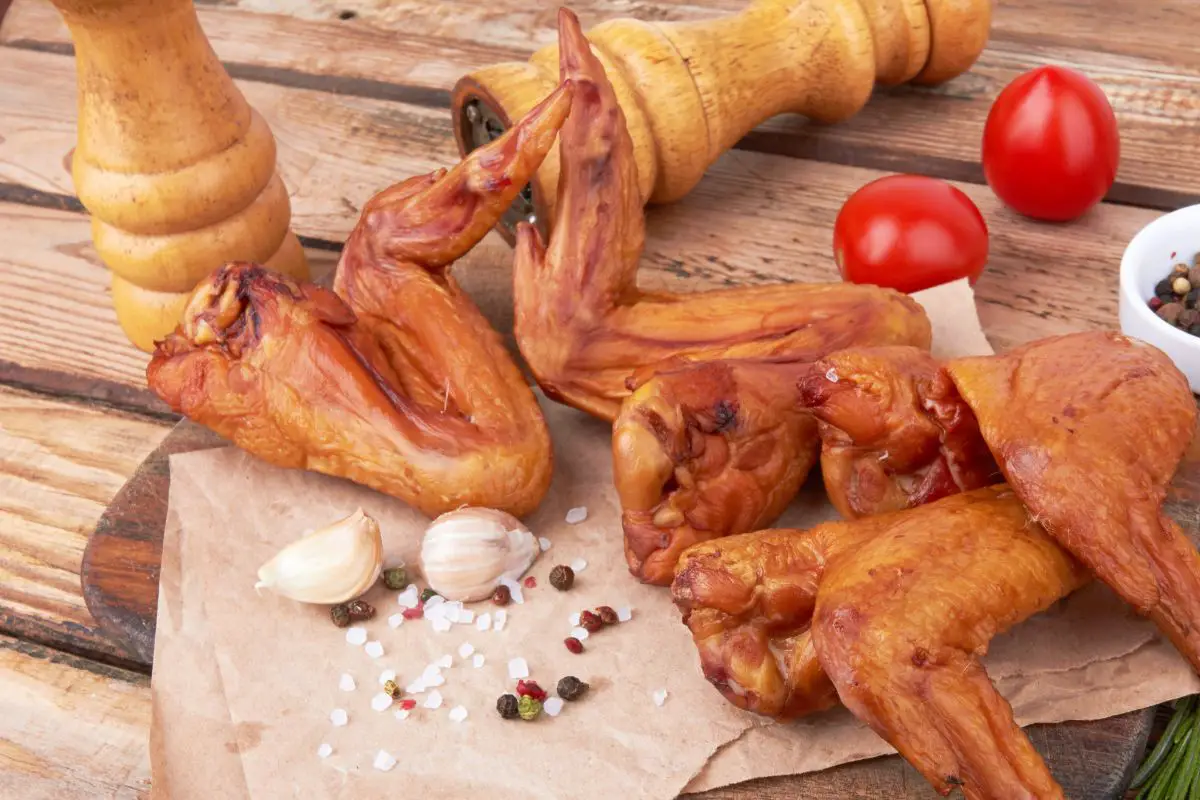 Ingredients List
3 pounds of turkey wings
1 cup of barbecue sauce (recipe above)
Dry rub of herbs and spices (as described above)
Method
Ready your charcoal grill for 2-zone cooking, one hot and one cool zone. Add 2 to 3 chunks of smoking wood, and get the temperature to 400 degrees Fahrenheit.
Make up the dry rub in a bowl with your chosen herbs and spices.
Cut through the joints at the top of each turkey wing and separate all wing sections (or you can smoke them whole if you prefer).
Get the dry rub fully coated over your chicken wings.
Put the wing sections on the hot zone and grill for about 5 minutes on each side.
When brown and crisp, move the wing pieces to the cool zone.
Replace the grill lid and get the wings to smoke for about 40 minutes.
When the internal temperature is at least 165 degrees Fahrenheit and the wings are tender, coat those wings with the keto-friendly barbecue sauce (recipe provided earlier)
Cover the grill and let the wing pieces cook for a further 2 to 3 minutes.
At this point, the sauce will have set, and you will have some amazing, sticky smoked turkey wing pieces you can take straight from the grill and serve.
Wrap Up
OK, so admittedly this is a somewhat intense long-winded recipe to work your way through, but trust me it's hands down one of the best such recipes out there if you're looking for keto-friendly smoked turkey wings.
What's more, the keto-friendly barbecue sauce is to die for, and it comes in two variations, so you can tweak it so that it's tangy or tweak it so that it's mellow.
Enjoy!