Falafels are a Middle Eastern dish that contains a lot of healthy ingredients and are often vegan. They are a popular ingredient in many vegan and vegetarian meals and are found in most supermarkets and stores.
Falafels are considered a 'hipster' food, just like avocados, but with more people following a keto diet, are they suitable to eat on this particular diet?
The keto diet, short for ketogenic, simply aims to massively reduce the number of carbohydrates in your diet. Sounds simple, right?
Well, not if you love carbs! As falafel is loved by many and provides a lot of vitamins and flavor in their diets, how can they become keto-friendly and still remain delicious? Find out here how falafel fits into a keto diet- or if it does at all.
What Is The Keto Diet?
The keto diet aims to minimize your carbohydrate intake so that your body burns fat for fuel instead of carbohydrates. The aim of the keto diet is to send your body into a state of ketosis, where fat can be used as energy.
The keto diet has shown to be effective in weight loss but can be unsuitable for some people as they do not get enough energy from their low-carb diets.
What Are Falafels?
Falafels originate from the Middle East and are often made with mashed chickpeas that are then combined with herbs and spices, deep-fried, and served as a side dish, snack, or as part of a main meal.
They are extremely popular with the vegan, vegetarian, and gluten-free communities as falafel is a tasty and versatile alternative to meat.
Are Falafels Healthy?
Falafels offer a lot of health benefits as they are a good source of protein, fiber, and provide you with a lot of essential vitamins and minerals.
Traditionally, falafels are made with chickpeas or fava beans which provide vegans and vegetarians with protein that they wouldn't be getting from meat.
Falafels are traditionally deep-fried, which can reduce the health benefits as deep-fried food is high in calories and saturated fat.
However, there is the option of having oven-baked falafel instead of deep-fried so the amount of saturated fat that you consume when eating falafels is reduced by a lot.
Are Falafels Suitable For A Keto Diet?
Sadly, no. Falafels are unsuitable to consume on a keto diet as they are made with chickpeas, fava beans, and flour, which are all high carbohydrate foods.
Although falafels contain a lot of vitamins and minerals, people following a keto diet still see falafel as being too high in carbohydrates to consume.
Can You Make Falafel Keto-Friendly?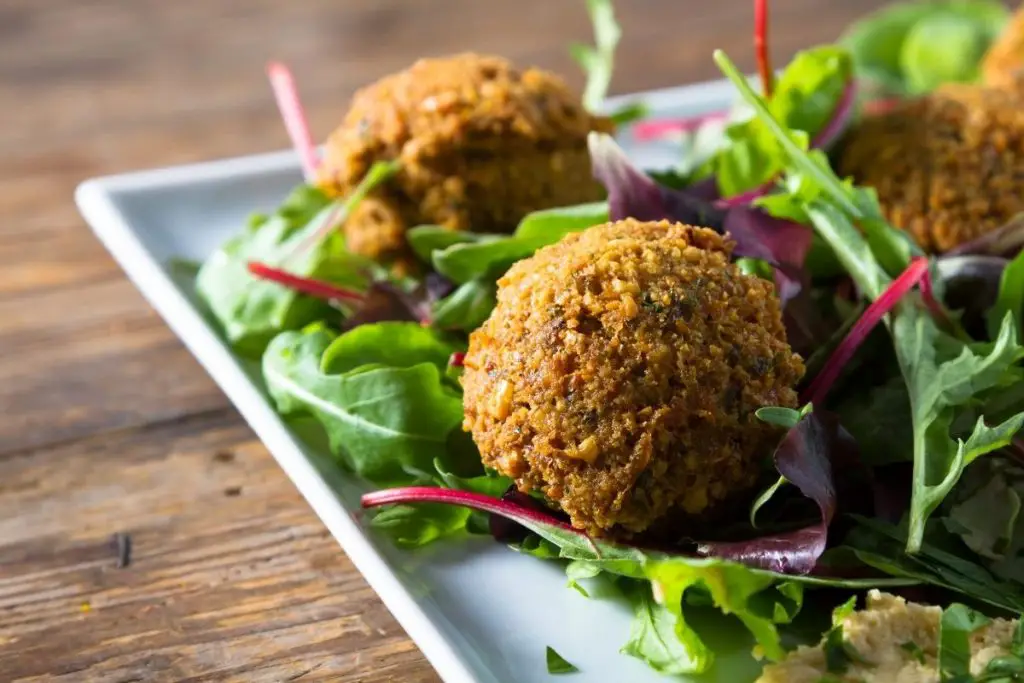 There are some recipes that can help make falafel keto-friendly so that you can consume falafels when following a keto diet.
This recipe will allow you to get all of the right nutrients and vitamins from falafel while enjoying a low-fat and keto-friendly version of these delicious snacks. Enjoy the great tastes and flavors of falafel with this recipe while still maintaining your keto diet.
Keto-Friendly Falafel Recipe
This keto-friendly falafel recipe makes 16 servings and they can be stored in the refrigerator or freezer if you want to use them on a different day.
Firstly, pulse your cauliflower into a rice texture. This can be done in a food processor or blender just by pulsing the cauliflower into a rice form. Transfer to a bowl.
Next, pulse the onion, cumin seeds, garlic, cilantro, and chilies to the food processor or blender until they are the same texture as the cauliflower. Add them into the bowl with the cauliflower and combine.
In the same bowl as the cauliflower and herbs, add coconut flour, salt, and pepper. Mix well so all of the ingredients are combined.
As the cauliflower will naturally release water, the mixture should form a dough-like texture. If not, add chia egg to the mixture. This is a mixture of chia seeds and water that is a vegan substitute for eggs.
Once your mixture has formed a dough, take a small piece of the falafel and make a small ball. Make sure that you have greased your palms so that none of the mixtures sticks to your hands. Lay the ball on greaseproof paper and gently flatten the top slightly to create a falafel shape.
Place the falafels in the oven until they are golden brown and crispy. Alternatively, you can cook your falafels in an air fryer for 12-16 minutes until they are crispy and ready to eat. Enjoy tasty, healthy, keto-friendly falafels!
What Makes These Falafels Keto-Friendly?
These falafels are keto-friendly as they use low-carb ingredients to create the same texture and flavors as traditional falafels.
The recipe uses pulsed cauliflower instead of chickpeas or fava beans so a big majority of the carbohydrates are cut out of the falafels and replaced with a keto-friendly alternative.
The recipe also uses coconut flour as a keto-friendly substitute for normal flour. Coconut flour is high in fiber and provides you with healthy fats for energy instead of carbohydrates so your body isn't needing carbs for energy.
Final Thoughts
To conclude, traditional falafels are not seen as keto-friendly as they contain ingredients that are high in carbohydrates. Chickpeas, fava beans, and flour are all seen to be high in carbohydrates, and despite falafel providing essential vitamins and minerals, they are still seen to be unsuitable to be consumed on a keto diet.
As falafels are usually deep-fried, this can cause them to become high in saturated fat and can take away a lot of the health benefits that they provide.
If you want oven-baked keto-friendly falafel, you need to add keto-friendly substitutes in place of chickpeas, fava beans, and flour. By substituting these ingredients for cauliflower and coconut flour, you can create delicious and keto-friendly falafel that doesn't compromise on taste or flavor.
Overall, falafel can be made keto-friendly and still remain a delicious addition to any dish while still providing numerous essential health benefits and adding some much-needed flavor and spice to our lives!