Contrary to popular belief, the keto diet is not meat-exclusive!
It's a common myth that vegetables are off-limits when you're on the keto diet, however, this is simply not true!
It's actually an essential part of the diet to have a sufficient amount of keto-friendly vegetables. 
A rare vegetable that many may not have heard of is okra. This is a highly nutritious vegetable that's full of potassium, magnesium, folate, fiber, and antioxidants.
It's versatile and fits into almost any recipe! But, is it keto-friendly? 
This article will outline everything you need to know about okra when it comes to your keto diet.
Is Okra Keto-Friendly?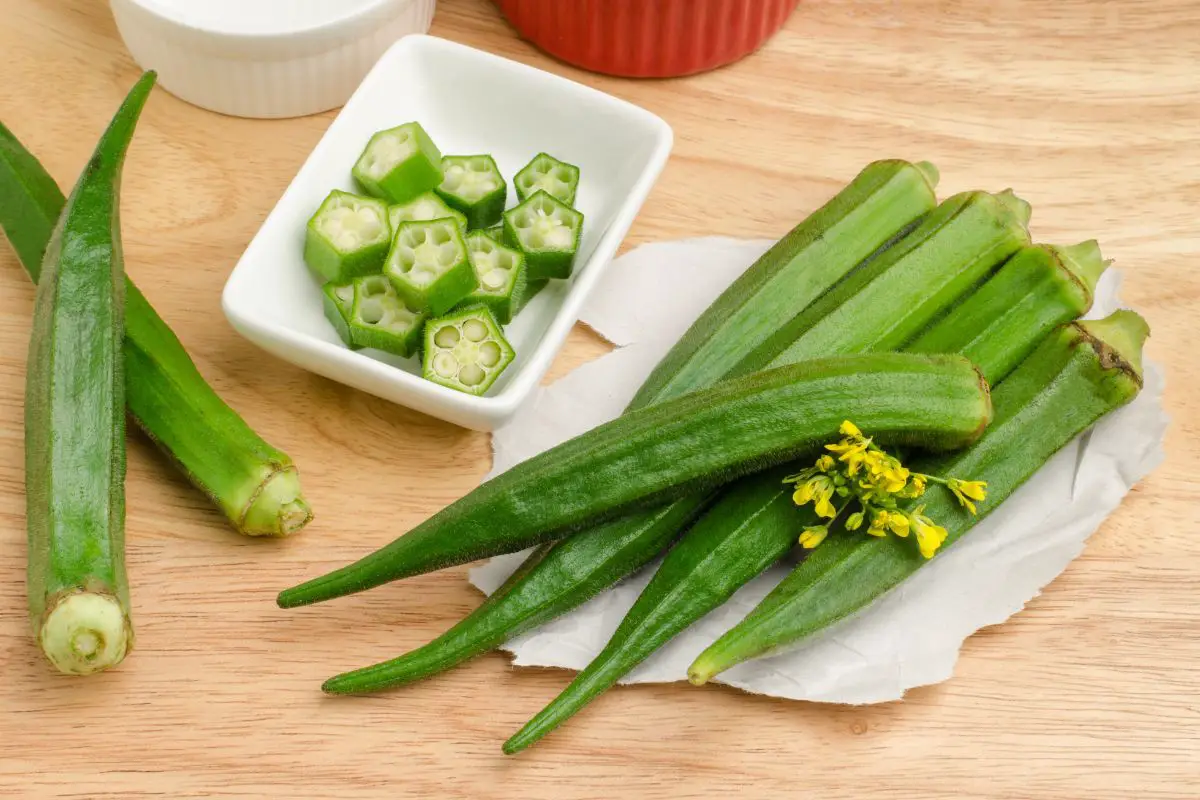 Okra is definitely a keto-friendly vegetable! Just half a cup of boiled okra has 1.6 net carbs, so it can be enjoyed when you're doing the keto diet.
It is rich in vitamins and electrolytes, making okra a great remedy for the keto-flu.
It's especially great for vegetarians who are doing the keto diet, allowing for more versatile keto-friendly recipes.
As a staple of many Indian dishes, it can be a flavorful addition to your diet. 
If you want to know if pickled okra and okra chips are also keto-friendly then look no further!
Pickled Okra
Pickled okra is a brilliant keto-friendly snack! Crunchy and rich in flavor, pickled okra can be eaten with ranch dressing or tzatziki as a tasty addition to your keto diet. 
A handful of ranch-dipped picked okra will consume 5g of net carbs from your daily quota, and since it is a low-fat snack, you need to balance it out with fatty foods to balance out your daily intake. 
Okra Chips
Store-bought okra chips have far too many carbs for a keto diet, so it is not keto-friendly.
However, if you're lucky enough to find some that have less than 4g of net carbs per pack, then you've found yourself some keto-friendly okra chips!
You can also make your own keto-friendly okra chips that you can incorporate into your diet, and break up the monotony of your regular keto meals by making some cheesy okra chips!
All you need is black pepper, salt, garlic, cheddar cheese, and okra to create a tasty snack or side dish.
The Health Benefits Of Okra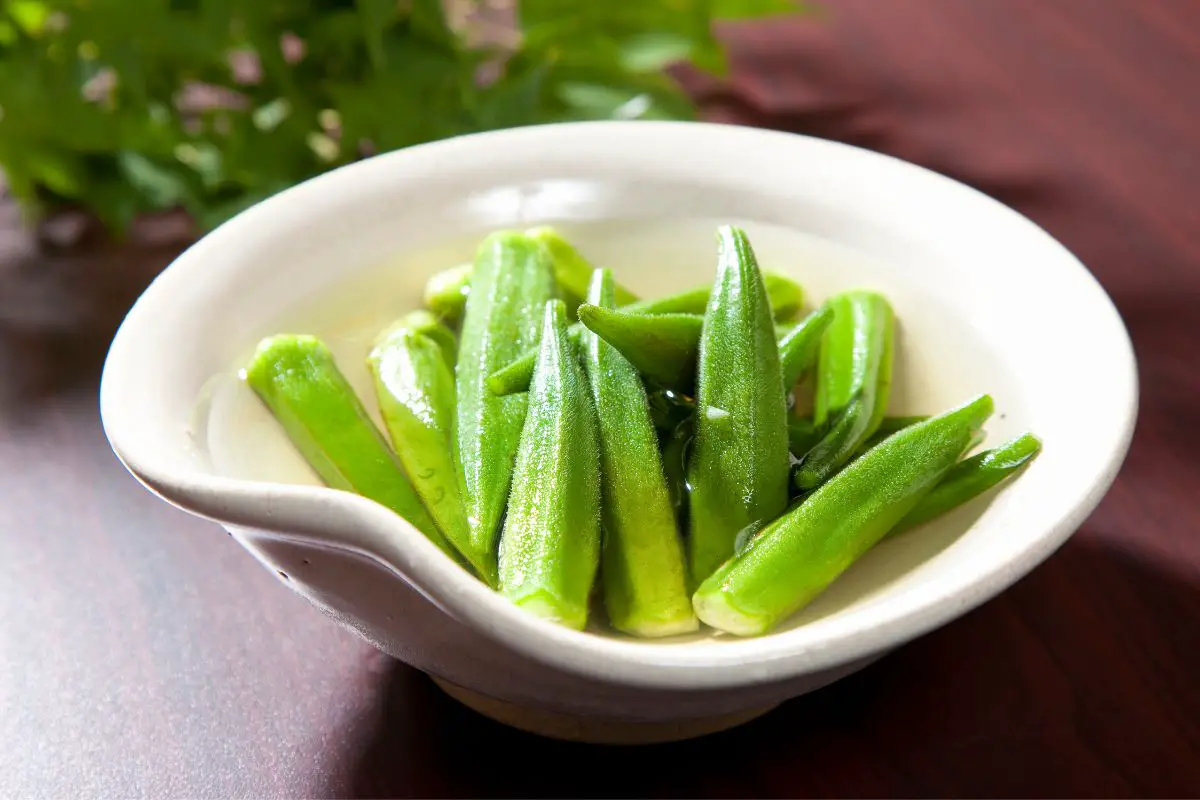 Okra seeds are actually used in many supplements across the country and provide several health benefits.
Incorporating okra into your keto diet can improve your overall health and help you beat the keto-flu. Here are some of the health benefits okra has to offer.
Lowered Risk Of Heart Disease
Okra is good for your heart health, as it's rich in flavonoids, which lower your risk of heart disease.
It's great for lowering your blood cholesterol because it contains a gel-like substance known as mucilage, which can be seen when raw okra is cut.
It's great for purging cholesterol out of your system. Add okra to your diet for better cholesterol and a healthy heart.
Maintains Healthy Blood Sugar
Packed full of fiber and low in carbs, okra is the perfect food for maintaining healthy blood sugar levels.
Blood sugar is important to keep an eye on when you're on the keto diet, and since okra is ranked low on the glycemic index, it can help you keep your blood sugar at normal levels.
Okra lowers the absorption rate of sugar in your digestive tract, resulting in controlled energy release and blood sugar.
It's especially beneficial for diabetics and is even considered a powerhouse of antidiabetic properties.
Beneficial In Pregnancy
Okra is a source of vitamin b9 and folate, which is an essential vitamin for pregnant women and is found in prenatal supplements.
It supports a developing baby in the womb and lowers the risk of complications during pregnancy.
While the keto diet is not recommended during pregnancy, this keto-friendly vegetable can still be beneficial for getting the recommended amount of folate and vitamin b9 in your diet while pregnant.
Reduces Risk Of Cancer
Incredibly, okra has been proven to prevent the growth of human cancer cells! Its amazing properties truly make this vegetable a keto-friendly superfood.
It contains lectin, which is a protein that inhibits the reproduction of cancer cells. A study even found that okra can prevent the growth of breast cancer cells by 63%!
Keto-Friendly Stir-Fried Okra
It is clear that okra is the perfect, healthy addition to your keto diet, but since it's such an uncommon vegetable, it can be hard to know how to incorporate it into your diet and make a tasty, keto-friendly meal.
Since okra is a big part of Indian cuisine, it only makes sense to start there! Here is a delicious keto bhindi masala recipe, also known as stir-fried okra, for you to try at home.
Ingredients
5.3 ounces of okra.
Salt.
¼ teaspoon of turmeric.
¼ teaspoon of Kashmiri chili powder.
¼ teaspoon of coriander powder.
¼ teaspoon of cumin powder
3 tablespoons of olive oil.
How To Make
First, you need to wash and dry your okra thoroughly. Make sure it is completely dry before cooking.
Next, chop the okra into small pieces.
Once you have chopped okra, heat 3 tablespoons of olive oil in a pan and add the okra and salt. Cover your pan and cook for 2 minutes.
After 2 minutes of cooking, stir the okra and cook for a further 2 minutes.
After another 2 minutes, add your spices and cook until your okra is soft.
You can now serve! We recommend that you serve this dish with a keto chapati.
Nutrition Per Serving
Calories – 410
Net carbs – 6g
Carbs – 11g
Fat – 41g
Protein – 3g
Fiber – 5g
Conclusion
Okra is the perfect vegetable to eat while you're on the keto diet. It has numerous health benefits relating to heart health, blood sugar, prenatal health, and cancer prevention.
It's so versatile – whether you boil it, roast, fry it, or pickle it, it can be used as a part of so many keto meals.
With just 1.6g of net carbs per half-cup serving, it is completely keto-friendly.