Enlightened Plant Protein is a plant-based company who make 'free from' products that promote a healthy lifestyle and encourage vegan eating habits as well as an organic lifestyle.
Their main product is roasted fava beans, satisfyingly named 'Bada Bean Bada Boom'. There isn't a huge amount of information about these companies, our research suggests they are both subsumed under the 'Beyond Better Foods' company.
Visit Enlightened foods website and other products here.
This product is proudly gluten free, vegan, non-GMO, Kosher, and soy-free. There's no one who isn;'t welcomed by the crunchy and tasty delights of the roasted fava bean.
Even if you aren't vegan, these are a great way to make your purchases more organic and environmentally friendly.
Moreover, if you are on a keto diet, or you just want more protein in your snacks, then Enlightened Plant Protein is worth a look – their beans have 3x more protein than the conventional bag of chips.
One of the prided features of Englishtened's product is that while you can enjoy the beans as a snack like you would potato chips, you can also get creative and use them in salads, on yoghurt, oatmeal, or soup. They are a versatile and healthy snack worth exploring.
Buying supposed 'vegan' or 'free from' products can be a leap for the veggie-skeptic, and for the seasoned vegans among us it can be of a dip of luck with all the new brands that seem to double everyday.
Someone has to keep tabs on the constantly changing products, otherwise they will have no one to hold them accountable when they disrespect these important 'free from' labels.
The last thing you want to do is waste your lunch break eating some gross mislabelled plant matter, we have reviewed the product so you know your purchase is worth the while.
What Do They Offer?
The main product Enlightened push is their 'Bada Bean Bada Boom' range of snacks. These snacks are roasted fava beans that are coated in different flavorings. The snack boasts having 3x the protein of their main competitor: the bag of chips.
Moreover, they offer a host of flavors, 13 to be exact: sea salt, sweet sriracha, everything bagel, sweet onion and mustard, zesty ranch, garlic and onion, spicy wasabi, nacho cheese, buffalo wing, mesquite bbq, jalapeno popper, sweet cinnamon and cocoa dusted.
Each flavor is available in 24 1 oz Single Serve Bags, or 6 3 oz Resealable Bags. Visit their website for the full breakdown of their flavors.
In addition, Enlightened also provides a good selection of boxes, some mix and match, and others of a themed variety. The boxes include the 1 oz single use packs.
The Savory Box contains 24 bags of 3 flavors: sea salt, garlic and onion, and sweet sriracha.
The Sweet Box contains all the sweet varieties on offer, which includes 12 cocoa dusted and 12 sweet cinnamon.
The Saucy Box offers a collection of the 3 saucy flavors: sweet sriracha, zesty ranch, and sweet onion and mustard.
The Classic Box which includes: sea salt, mesquite bbq and sweet sriracha.
Their most popular product is The Boom Box, inside the pleasing packaging is 4 bags of every flavor making up their largest box of 52 bags.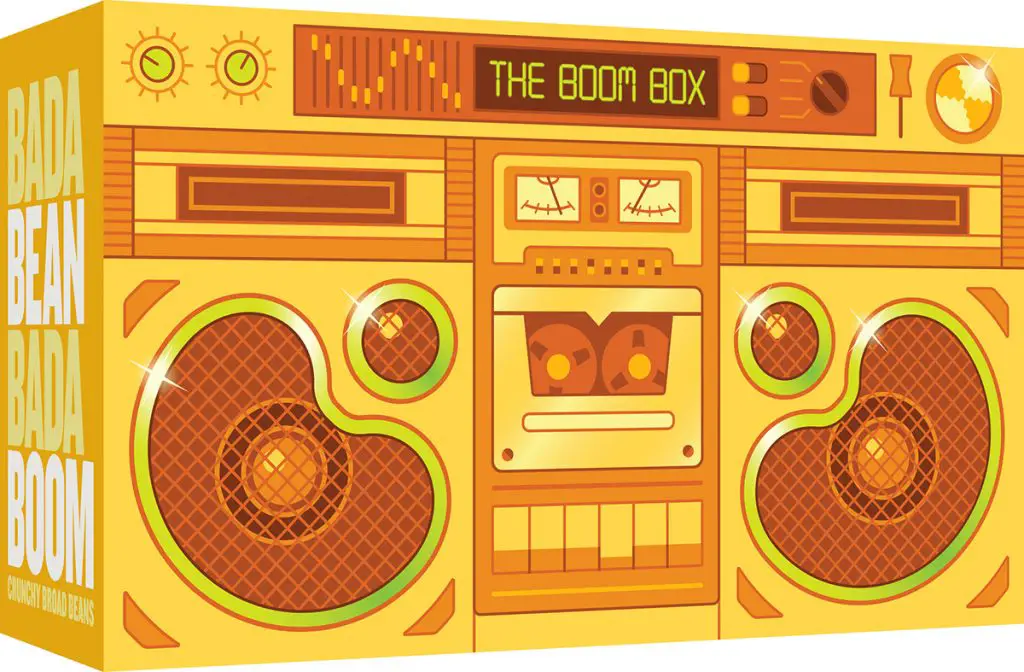 Curious about their product but don't want to invest without testing their range? The Bada Beginners Pack is for you, one pack of their 4 most popular flavors: sea salt, sweet sriracha, mesquite bbq, and sweet onion and mustard.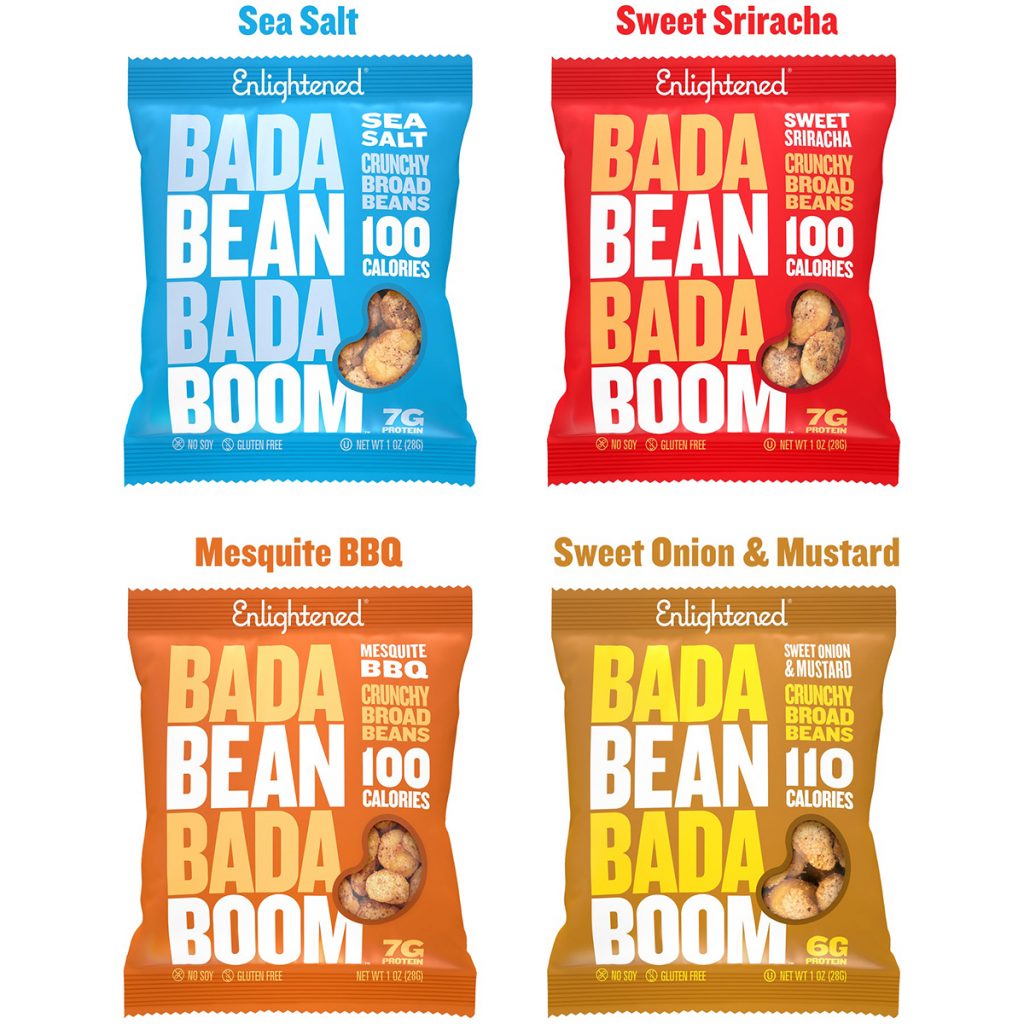 Our Review
Flavor
As with any food product, a review of the product's flavor can be a bit pointless as we all have our own preferences with flavor.
While the 'Nacho Cheeze' flavor might be enjoyed by a life-long vegan, the scent and flavor of the fake cheese may be quite foreign to a flexitarian, for example.
The common flavors like 'Zesty Ranch' and Buffalo Wings' are particularly good and seem to be popular among most consumers as they are so familiar.
Coat anything in ranch or buffalo and it will taste great, luckily the product being doused in seasoning is a healthy fava bean, so there isn't too much to hate with these flavors.
If you are happy to take a little hit in terms of flavor for a much better nutritional profile, there's no doubt you will love the beans. A regular vegan or vegetarian will likely be used to this kind of product too, and will enjoy the added protein.
A regular meat eater, though, could find the earthy flavor of the bean a little challenging, but if they are committed to the cause of environmental friendliness and plant-based eating, this isn't the largest obstacle to conquer.
Texture
One thing any consumer may find slightly challenging is the texture of the bean. While some beans can have a smooth texture to them that is sort of like a creamy nut, the fava bean can be a little grainy.
The kind of grainy texture that puts you off eating too many. Many reviewers seem to comment on the occasionally strange texture of the beans, but this is unavoidable it seems. We would say this is a minor detail but some will find it too much.
However, considering the nutritional profile of this snack, the small sacrifices you make in terms of flavor and texture, that all vegans and vegetarians make every day, then you won't be too upset by this minor inconvenience.
We find that the nutritional value exceeds what is lost with the snack in general.
Does It Live Up To The 'Free From' Label?
It does seem from our research into the ingredients that this product is indeed what it claims to be. Beyond Better Foods is a generally good company when it comes to being open and clear about their ingredients.
There are undoubtedly no traces of gluten, dairy products, meat products, or GMO products. They seem to be roasted with a small amount of sunflower oil and are seasoned after, so pretty simple ingredients indeed.
The company's founder, Michael Shoretz, is actually involved in a lawsuit with Englightened's vegan 'ice cream' brand.
Interestingly, the company is being sued for misuse of the name 'ice cream' as the product doesn't contain any milk, pretty ironic in honesty. If this is the case, then we can trust Michael Shoretz and his monopoly on the emerging vegan-alternative market.
Do They Remain A 'Healthy Snack'?
We think so. Depending on the flavor, one roasted and seasoned bean has 6-7g of protein, 100-110 calories, and 3-6g of fibre. So, even if you aren't into veggie alternatives, but you are into healthy eating, then there is no need to shy away from this nutritious snack.
Who Would Like 'Bada Bean Bada Boom'?
The obvious candidate is the long-serving vegan or vegetarian. For their diet, protein and fibre can be a focus, so any way to pack these goodies into a small snack that remains healthy is pretty desirable among the plant-based people.
If you are health obsessed but chip addicted, these could be a good switch, they maintain the salty satisfaction we crave in a chip but buff it all out with nutrition to wash away that guilt.
Moreover, the gym go-er who wants a snack that won't kill his keto diet or create empty calories, Bada Bean Bada Boom can certainly help meet those protein macros.
For those families who want to fill out the kids' lunch box with some healthy but tasty goodies, Bada Bean Bada Boom is a great alternative to potato chips.
We guarantee your kids won't care about them being beans when they are covered in ranch seasoning, they may even boast to their friends about their cool new snack.
The Verdict
We think Enlightened have done another great job with this brand venture. 'Bada Bean Bada Boom' is a fun, healthy, and honest alternative to the humble potato chips which are just empty, salty carbs.
Why not get some nutrition in your life while having a self-love snack and a little giggle at their clever name.
Technically anyone can enjoy these beans. Those who seek a healthier diet in general may enjoy the welcome flavor of the snack and don't sacrifice much for the nutrition of the product.
It's certainly one easy swap we can all make to become more environmentally friendly and start a plant-based diet.
Even if this isn't in your plans, Bada Bean Bada Boom can really provide some nutrition and variety into your life if you want to start becoming healthier while not losing out on snack like potato chips.
Even at the local bar, you could see these beans popping up as they are particularly great with a hoppy beer to wash it down.
Overall, Bada Bean Bada Boom is a great product and a welcome alternative to the potato chip. They are open about their ingredients, honest about their marketing and seek to provide an alternative to the conventional snacks we see on grocery stores shelves. Go bean crazy today!