If you're a big fan of mustard, but you want to try out the ketogenic diet, then before you begin, you really ought to find out if mustard is keto-friendly.
You don't want to undo all the work of a ketogenic diet by accidentally consuming something that will kick you straight out of ketosis.
This is particularly important if you frequently use mustard to add flavor to your foods and recipes. Mustard has a tendency to creep into all your dishes if you're not careful.
Mashed potatoes, ham and cheese sandwiches, in a wrap, in pita bread, Plowman's lunch. And that's just a few off the top of my head.
So, if you're concerned about this, there's no need to worry. This article is going to explain whether or not mustard is keto-friendly, and how you may still be able to enjoy certain mustards when you are on the ketogenic diet.
Please feel free to scroll ahead to any section that jumps out at you. Here goes.
Is Mustard Keto-Friendly?
Ok, I'm just going to level with you here. There's no straight answer to this question. The truth is that some mustards are keto-friendly, and others simply aren't.
The good news however, is that most brands of mustard simply don't contain a significant portion of carbs.
It's naturally low-carb, which makes it easy to enjoy even when you're on a strict ketogenic diet and meal plan.
But you have to be careful, because there are some brands of mustard out there that add the likes of fruit, honey, and other sweeteners to the mix to tweak the taste of the mustard and make it more appealing to those with a sweet tooth.
Later in the article, I will present you with a list of mustard brands that are just fine on a keto diet, followed by a list of brands that you need to avoid.
But before we get round to that, let's go over how you can enjoy mustard when you're on a ketogenic diet.
How You Can Enjoy Mustard On A Ketogenic Diet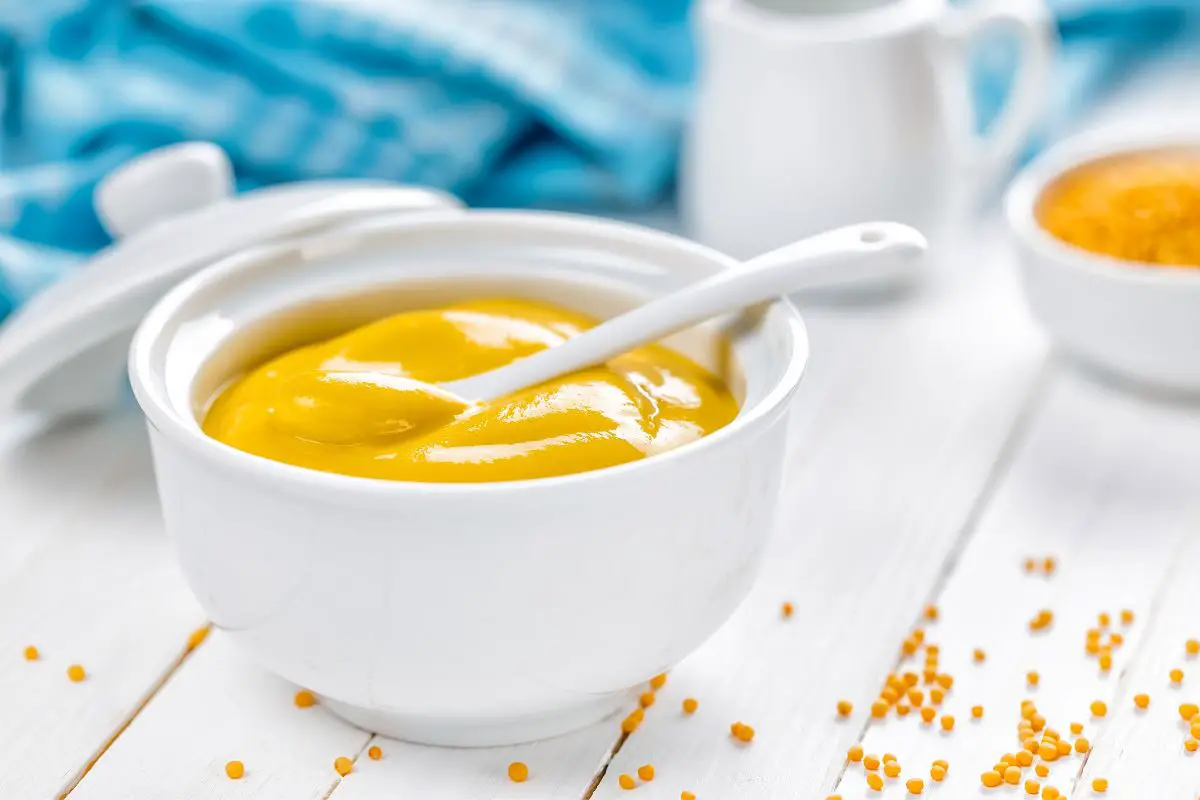 The best way to stick to a diet is to enjoy it. If you don't enjoy it, it would take all the willpower in the world to see it through its course.
And that's just wrong isn't it. Enjoying your food is one of the simplest pleasures of love.
But I know from experience that a lot of people trying a keto diet tend to stick to the same sorts of foods most days.
But variety is the spice of life as they say, and by adding a flavorful condiment to your meal, you can transform the entire dish and make it more enticing.
It may sound obvious, but I'll point it out anyway.
The best way to ensure that your mustard dressing isn't going to kick you out of keto is by not mixing it with anything sweet to make it into a different kind of sauce.
The other thing I recommend that you do is to check the labels on the mustard and see the carb content for yourself.
Remember, on the keto diet you're only allowed a maximum of 50 grams of carbs. So, if your favorite brand of mustard does contain carbs, be sure to use it sparingly.
And my other top tip is to look through the lists provided below, which make it very clear which brands are keto-friendly, and which ones to avoid when you're on the keto diet.
What Brands Of Mustard Are Keto-Friendly, And Safe To Enjoy On A Ketogenic Diet?
Here follows a long, comprehensive list of brands of mustard that have zero net carbs per serving, where one serving is defined as 5 grams, and are therefore very easy to incorporate onto a ketogenic diet or meal plan.
365 Organic Dijon Mustard
365 Organic German Mustard
365 Organic Yellow Mustard
Primal Kitchen Organic Dijon Mustard
Primal Kitchen Organic Spicy Brown Mustard
Suzie's Organic Yellow Mustard
Suzie's Organic Spicy Brown Mustard
Heinz Organic Yellow Mustard
French's True Organics Yellow Mustard
Organicville Stone Ground Mustard
Organicville Organic Dijon Mustard
Organicville Yellow Mustard
Simple Girl Organic Sweet Mustard Dressing & Marinade
Westbrae Natural Organic Stoneground Mustard
Simple Truth Organic Dijon Mustard
Simple Truth Organic Yellow Mustard
Simple Truth Organic Stone Ground Mustard
Beaufor Whole Grain Mustard
Beaufor Extra Strong Dijon Mustard
Murray's Whole Grain Mustard
Trois Petite Cochons Dijon Mustard
Happy Belly Yellow Mustard
Heinz Yellow Mustard
Heinz Spicy Brown Mustard
French's Dijon Mustard
French's Yellow Mustard
French's Spicy Brown Mustard
Silver Spring Jalapeno Mustard
Emeril's New York Deli Style Mustard
Top Em's Yellow Mustard
White Castle Dusseldorf Mustard
Plochman's Yellow Mustard
Plochman's Stone Ground Mustard
Jack Daniel's Old No. 7 Mustard
Woeber's Jalapeno Mustard
What Brands Of Mustard Should You Avoid When You're On A Ketogenic Diet?
Now, here's a list of brands of mustard that feature sugar in the ingredient list.
Therefore, I would argue that you should avoid these brands on that basis, even if there are zero net carbs per serving. 
Private Selection French Dijon Mustard
Suzie's Organic Dijon Mustard
Sir Kensington's Yellow Mustard
Grey Poupon Dijon Mustard
Grey Poupon Country Dijon Mustard
Hengstenberg Medium Hot Mustard
Colman's Mustard
Beaver Extra Hot Chinese Mustard
Private Selection Spicy Beer Whole Grain Mustard
French's Spicy Yellow Mustard
Woeber's Sweet & Spicy Mustard
Inglehoffer Stone Ground Mustard
Maille Old Style Dijon Mustard
Mister Mustard
Wickedly Prime Creamy Garlic Mustard Aioli
Grey Poupon Mild & Creamy Dijon Mustard
Or any mustard with "honey" in the name
Wrap Up
So, now you have an excellent starting point for finding a good mustard that fits in with your keto diet meal plan. 
If you can't find the mustard you like in either of the lists provided above, simply read the ingredients list, and avoid any mustard that features "honey" in the ingredients list.
You should also check the number of carbohydrates per 100g of mustard, and stick to those brands that have a net carbohydrate amount of 0 grams.
That way you easily can stick within your 50 gram left.